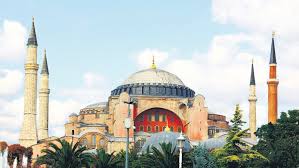 ACADEMIC YEAR 2020/2021
Instructor: Prof. Laura Franco
Programme
The aim of the course is to offer an overview on the world of Late Antiquity. 
It comprises an introductory part on the third century and the persecutions of the Christians, followed by two main sections: the first focussing on the raise of Christianity, the early cult of the saints, and the Roman martyrs in particular; the second one concerning the Constantinian policy of tolerance towards the Christians, the Christianisation of Rome, the growing importance of the Second Rome (Constantinople), and the imperial ideology on which the Byzantine theocracy is based. 
Other sections will deal with the 'survival' of paganism, the development of the hagiographical genre in the Fourth and Fifth century (monasticism, cross dressing saints, holy fools and stylite saints), daily life in Late antiquity, the importance of Byzantium for the transmission of ancient texts, concluding with the Plague at the age of Justinian.
We shall devote particular attention to the sources, historical, literary and religious, by reading selected passages of ancient authors in translation.
Selected Bibliography
P. Brown "The raise and the Function of the Holy man in late Antiquity", Journal of Roman Studies (61) 1971, pp. 80-101 P. Brown, The World of Late Antiquity, London 1971 (reprinted 2013)
A Cameron and S. G. Hall, Eusebius. The Life of Constantine, Oxford 1999
R. Krautheimer, Rome, Profile of a City, Princeton University Press 1980
S. Runciman, The Byzantine Theocracy, Cambridge 1977
K. Sessa, Daily Life in Late Antiquity, Cambridge 2018