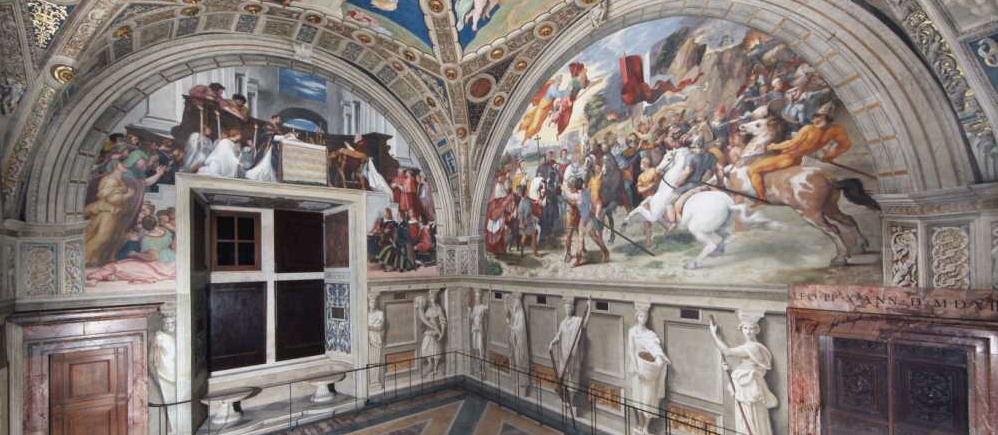 Early Modern Art - A
2021/2022
Prof. Arnold Nesselrath 
email: This email address is being protected from spambots. You need JavaScript enabled to view it. 
a.y. 2021-2022 – 1st semester
15. 10.             13-15               2 h           Introductory session
                        15-17              2 h            Lecture: art in Rome, the 15th and 16th centuries
28. 10.             09-12              3 h             Visit to San Clemente
                                                                  Masolino: Chapel of St Catherine tomb of Cardinal Roverella attrib. to Giovanni Dalmata
                                                                  Tomb of Cardinal Venerio attrib. to Andrea Bregno
                        14-17               3 h            Visit to S. Maria sopra Minerva: 
                                                                  Carafa Chapel
                                                                  Tomb of Andrea Bregno
                                                                 Michelangelo: Christ
29. 10.             10.30-14         3.5 h       Visit to Villa Farnesina:
                                                               Galatea
                                                               Psyche
                                                               Peruzzi
                                                               Sodoma
                        15-17.30         2.5 h        Visit to Campidoglio:
                                                                donation of Pope Sixtus IV
03. 11.             13-15               2 h           Lecture: Sistina, '400
                        15-17              2 h            Lecture: Michelangelo, Sistina
04. 11.             10-12               2 h       Visit to the Church of S. Agostino
                                                              Raphael
                                                              Sansovino
29. 11.               9-11              2 h         Lecture: Stanze di Raffaello
10. 12.               9-12              3 h            Visit to the Church of S. Maria del Popolo
                                                               Pinturichio
                                                               Raphael
                        14-17              3 h            Final discussion
 Introductory session, lectures, and final discussion should take place in classrooms, visits on site.
Suggested Bibliography
 General
Amato Pietro Frutaz: "Le Piante di Roma", Rome 1962
Sydney Freedberg: "Painting in Italy, 1500-1600", 1st edition Penguin/Yale University Press, New Haven, 1971
Steffi Rottgen: "Affreschi italiani del Rinascimento". Tra '400 e '500, Pannini Editore, Modena 2000 (German edition, 2 vols., Himer Verlag, Munich 1996 and 1997)
Sistine Chapel
Jorge Maria Cardinal Mejia, Arnold Nesselrath, Pier Nicola Pagliara & Maurizio De Luca: "The Fifteenth Century Frescoes in the Sistine Chapel" (Recent Restorations vol. IV), Vatican City State, 2003
Arnold Nesselrath: "Vaticano - La Cappella Sistina - Il Quattorcento", Parma 2003 (Italian and French edition)
Iconography
Bibel
"Lexikon der christlichen Ikonographie", Herder Verlag, Freiburg i. Br. 1968-1976
Art and Technique
Carl Brandon Strehlke: "The Panel Paintings of Masolino and Masaccio - The Role of Technique", 5 Continents Edition, Milan 2002
2020/2021
MODULE A
Academic Year 2019-2020 1st Semester
Instructor: Prof. Arnold Nesselrath
Schedule:  Full timetable here
Office: Building B, II Floor, Room 25
Office Hours by appointment only
Programme
The course will be dedicated to the arts in papal Rome between the XVth and the XVIth century, with a specific focus on Raphael and his workshop.
Details and Visits' timetable HERE.
Bibliography
General
Amato Pietro Frutaz: Le Piante di Roma, Rome 1962
Sydney Freedberg: Painting in Italy, 1500-1600, 1st edition Penugin/Yale Universty Press, New Haven, 1971
Steffi Rottgen: Affreschi italiani del Rinascimento. Tra '400 4 '500, Pannini Editore, Modena 2000 (German edition, 2 vols., Himer Verlag, Munich 1996 and 1997)
Sistine Chapel
Jorge Maria Cardinal Mejia, Anrold Nesselrath, Pier Nicola Pagliara & Maurizio De Luca: The Fiftheent Century Frescoes in the Sistine Chapel (Recent Restorations vol. IV), Vatican City StATE, 2003
Arnold Nesselrath: Vaticano - La Cappella Sistina - Il Quattorcento, Parma 2003 (Italian and French edition)
Iconography
Bibel
Lexikon der christlichen Ikonographie, Herder Verlag, Freiburg i. Br. 1968-1976
Art and Technique
Carl Brandon Strehlke: The Panel Painitngs of Masolino and Masaccio - The Role of Technique, 5 Contients Edition, Milan 2002
MODULE B - SECOND SEMESTER
COMING SOON
MODULE B additional visits and Materials with Dott.ssa Richiello
HOW TO GET TO VILLA MONDRAGONE
Villa Mondragone images

Villa Mondragone ITA

Villa Mondragone ENG